Joseph M. Chiarello, Esq
Joseph M. Chiarello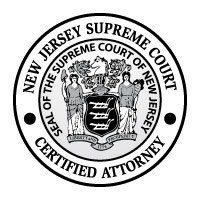 Introduction
Joseph Chiarello is a New Jersey Supreme Court Certified Civil Trial Attorney. He joined the firm in 1996 as an Associate and became a partner in the firm in 2000. Mr. Chiarello is a graduate of Trenton State College and Widener University School of Law, and is licensed to practice in New Jersey and Pennsylvania. Throughout his career at Jacob & Chiarello, Mr. Chiarello has represented clients in both States.

Primarily representing clients in Personal Injury matters, Mr. Chiarello also represents clients in cases for Medical Malpractice, Defamation, Harassment, Civil Rights Violations, Appeals from Administrative Decisions, Product Liability, Defective Products and many other causes of action. Mr. Chiarello also represents clients in Workers' Compensation and Social Security Disability matters as well as Criminal and Municipal Offenses, including DWI and all traffic offenses. Mr. Chiarello regularly appears in the Superior Court of New Jersey and the Federal District Court and has successfully argued before the Appellate Division of the Superior Court of New Jersey.

In his transactional practice, Mr. Chiarello represents clients in Estate Matters, preparing Wills, Living Wills and Powers of Attorney. In Real Estate and Business matters, Mr. Chiarello prepares and reviews Deeds for Real Estate, and reviews Sales and Business Contracts.

Joseph M. Chiarello, born and raised in Millville, is involved in the Millville Kiwanis and Knights of Columbus. Joe is the Scoutmaster of Troop 4 in Millville, NJ for the Southern New Jersey Council of the Boy Scouts of America. He is also a member of the American Association for Justice.


Schedule A Consultation
To schedule a consultation with Joseph M. Chiarello, contact his secretary, Nicole, at (856) 825-0700. Clients who have retained his services may contact Joseph M. Chiarello by email. For purposes of confidentiality, legal questions cannot be answered over the telephone or by e-mail, unless you are an existing client.


Cost
For Workers' Compensation and Social Security Disability matters, as well as Personal Injury matters, the initial consultation is free. For Criminal, Municipal Court and Traffic Offenses the initial consultation fee is $100.00 which will be credited toward the retainer fee (a flat fee) should the client choose to have Mr. Chiarello represent them. For other matters, a typical consultation is also $100.00, with a separate retainer for representation quoted at the consultation, otherwise my hourly rate is $290. Early morning and evening appointments are available, as well as house calls, if necessary. All consultations fees are payable at the time of your consultation.